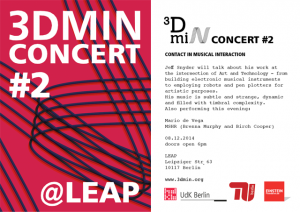 The second issue of the collaborative Lecture and Performance Series between 3DMIN and LEAP.
08.12.2014
18:30h – doors open
19:00h – artist talk
20:30h – concert
at LEAP, Lab for Emerging Arts and Performance
Leipziger Str. 63
10117 Berlin
Jeff Snyder will talk about his work at the intersection of Art and Technology — from building electronic musical instruments to employing robots and pen plotters for artistic purposes.
His music is subtle and strange, dynamic and filled with timbral complexity. On 3DMIN CONCERT #2 he will perform together with Till Bovermann. The evening will be completed by two additional performances by Mario de Vega and MSHR.
Mario de Vega—Monologue for taxidermy totem (conductive materials and electronics)
Through site specific projects, sculpture, documentation of ephemeral interventions and publications, his work overlaps relations between failure, vulnerability and simulation.
He has performed and exhibited his work across Europe, Mexico, North America, South Africa, India, Russia and Japan. He lives and works in Berlin and Mexico City.
MSHR is a collaborative project by Birch Cooper and Brenna Murphy based in Portland, Oregon. The duo produces sculptural synthesizers, ritualistic performances and installations that place the human body into a dynamic relationship with sound and light, generating expanded sensory experiences.