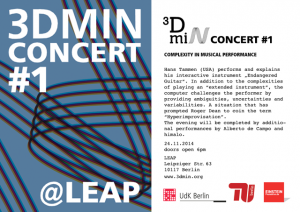 24.11.2014 – doors open 6pm
artist talk + concert
at LEAP, Lab for Emerging Arts and Performance
Leipziger Str. 63
10117 Berlin
Hans Tammen
Hans Tammen started developing his interactive instrument "Endangered Guitar" in the year 2000. It is a combination of sound creation through means of mechanical devices plus custom software programming, then using the guitar as a sound source and controller at the same time. In addition to the complexities of playing an "extended instrument", the computer challenges the performer by providing ambiguities, uncertainties and variabilities. The performer has to act on multiple dimensions, a situation that has prompted Roger Dean to coin the term "Hyperimprovisation" for these musical complexities. Hans Tammen will discuss his "Endangered Guitar" practice, and what lessons he learned playing a computerized instrument in hundreds of concerts.
Further, he discusses how his approach to music, rhythm, and improvisation has changed over the last 40 years, and how it has shaped the technology that he uses today.
The evening will be complemented with two performances by Alberto de Campo and Himalo
Alberto de Campo – Metacontrol Study Nr 1
Based on recent experiments with more indirect forms of control ('Lose control, gain influence'), this performance will be an attempt to formulate a balance between gradually relinquishing control of the sounding processes in play and handling the ensuing surprises gracefully.
himalo – Turbulences and Memory
Multichannel solo-performance using 3Dmins first instrument prototype PushPull to observe, learn and play with auto-generated and self-regulating digital feedback networks.